Notes and Oddments
Recent Additions to the Website
---
Coming Soon to the Website
---
Copyright Information
The Literary Estate of Jack Ritchie is managed by:
The Sternig & Byrne Literary Agency
2370 S. 107th Street, Apt 4
Milwaukee, Wisconsin
53227-2036 U.S.A
---
Obituaries for Jack Ritchie
"Mystery writer Jack Ritchie dies", The Milwaukee Journal, April 25, 1983.
"John Reitci, award-winning mystery writer", The Chicago Tribune, April 26, 1983.
"John Reitci", The New York Times, April 26, 1983.
"John Reitci", Whitewater Register, April 26, 1983.
---
The Raconteurs, Inc.
In 1981 the book How to Write and Sell by 34 Successful Writers was published by The Raconteurs, Inc., a writers' organisation founded in Wisconsin in 1956. Jack Ritchie was among those members who contributed an article to this book. Among the other contributors to this volume were Ritchie's agent, Larry Sternig, and local writers such as Arthur Tofte and Robert Bloch.
---
Sketch drawing of Jack Ritchie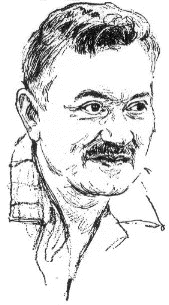 Original sketch by William S. Lewis of The Milwaukee Journal.
---
Selected Links
Contemporary Puzzle Plots - A critical and informed essay about Jack Ritchie, written by Michael E. Grost.
A Guide to Classic Mystery and Detection
The Evening News Short Story Index - An index to the short stories published in the London Evening News.
An Index to the Fiction Published in The Star
The Daily Mail Fiction Index: 1896 - 1950
The Arthur Porges Fan Site
A Tribute to Amelia Reynolds Long
Raymond F. Jones: A Tribute
The Rosemary Timperley Homepage
The Basil Wells Tribute Website
The H. B. Hickey Fan Page
The C. T. Stoneham Tribute Page
The Ursula Bloom Bibliography
---
Other Authors
I enjoy reading many authors and some of my favourites are: Edward D. Hoch, Henry Slesar, Arthur Porges, Raymond F. Jones, Amelia Reynolds Long, Jack Vance, Clifford D. Simak, Robert Sheckley, Clark Ashton Smith, Edmund Cooper, Henry Kuttner, C. L. Moore, Zenna Henderson, Ross Rocklynne, Robert Silverberg, Jack Ritchie, Stanley G. Weinbaum, H. Beam Piper, Leigh Brackett, Edmond Hamilton, Fredric Brown, Gordon R. Dickson, Frank O' Rourke, Alan E. Nourse, Mary Elizabeth Counselman, Nictzin Dyalhis, Clare Winger Harris, Arthur Tofte, Mary Williams, David R. Bunch, Basil Wells, Talmage Powell, H. B. Hickey, Ed Lacy, C. T. Stoneham, Arthur Sellings, Audrey Erskine Lindop, Eando Binder, E. C. Tubb, L. P. Davies, Mary Gallati, Paul Feakes, Sydney J. Bounds, Elijah Ellis, Rosemary Timperley, Hugh B. Cave, Kathleen Sky, Elizabeth Myers, Anne Frank, F. W. Thomas, Philip E. High, A. G. Gardiner (Alpha of the Plough), Ursula Bloom, Arthur C. Clarke, Carl Jacobi, Margaret St. Clair, Phyllis Eisenstein, Eric Frank Russell and Frank Sisk.
---