LATEST NEWS: The Best of Manhunt 4: The Jack Ritchie Stories has been published in December 2022 by Stark House Press. This book was edited by Jeff Vorzimmer and is available in both paperback and ebook editions. In addition to the twenty-three stories originally published in Manhunt, Vorzimmer's collection includes five tales that appeared in the magazines Mantrap, Murder! and Smashing Detective Stories.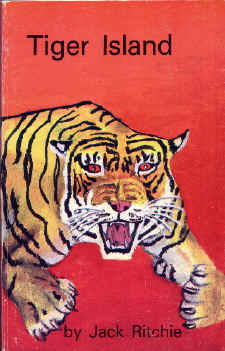 This website is dedicated to Jack Ritchie, the author of hundreds of crime and mystery short stories. Some of his best known stories include "For All The Rude People", "Variations on a Scheme" and "Upside-Down World". Jack Ritchie, whose real name was John George Reitci, was born in Milwaukee, Wisconsin in 1922. After serving in the Pacific during World War Two, Ritchie took up writing and sold his first story, "Always the Season", to The New York Daily News in 1953. Over the next three decades, Ritchie contributed countless short stories to fiction magazines such as Alfred Hitchock's Mystery Magazine, Ellery Queen's Mystery Magazine and Manhunt. Jack Ritchie passed away in 1983 at the age of 61, but he left behind over three hundred published short stories that continue to be discovered and enjoyed to this day.
There are many sides to Ritchie's work and his stories cover a number of different themes. Throughout his career he wrote hard-boiled thrillers, romance stories, detective comedies, suspense tales and locked-room mysteries. Ritchie loved exploring every angle of a mystery and was a master at coming up with unusual variations on a plot theme. Ritchie's stories are invariably told with a minimum of words, though he was deft at drawing interesting and memorable characters. Ritchie wrote a series of stories featuring the character Henry Turnbuckle, an idiosyncratic detective who appeared in several humorous yarns. Ritchie also wrote a number of tales featuring a vampire private investigator named Cardula (anagram of Dracula).
His story "The Green Heart" was filmed in 1971 as A New Leaf, a feature-length movie adaptation starring Walter Matthau and Elaine May. It was also recently adapted into an Off-Broadway Musical that opened in 1997. Other stories by Ritchie have been adapted for television and used in such shows as Alfred Hitchcock Presents and Tales of the Unexpected. One story used in the latter show was Ritchie's "The Absence of Emily", a tale that also won an Edgar Award from The Mystery Writers of America. Other stories used in television shows include "Anyone For Murder?", "The Way to Do It" and "Shatterproof".
Tiger Island, Jack Ritchie's only novel, was published posthumously in 1987. This unusual novel has a plot that focuses on the intricacies of human relationships. All the usual Ritchie elements are present, such as his penchant for drawing cynical and manipulative characters and his ability to insert unexpected twists in the plot. Tiger Island stands alone as a fine accomplishment for Jack Ritchie and though it is hard to find, the book is well worth tracking down. There were also three collections of his short fiction published: A New Leaf and Other Stories (1971), The Adventures of Henry Turnbuckle: Detective Comedies (1987) and Little Boxes of Bewilderment: Suspense Comedies (1989). Francis M. Nevins Jr., the editor of the two most recent collections, wrote fascinating introductions to these books that are an essential read for anyone who wishes to find out about Jack Ritchie's life.
Several prominent editors and authors in the mystery field who have praised Ritchie include Alfred Hitchcock, Donald E.Westlake, Anthony Boucher, Francis M. Nevins Jr. and Edward D. Hoch. Donald E.Westlake, in his introduction to the collection A New Leaf and Other Stories, wrote with enthusiasm about Ritchie and remarked that he wished to spread the word about how good a writer he was. As there is little on the internet about Jack Ritchie, this website is a small attempt at doing just what Westlake hoped to achieve. That is, to promote the brilliant writings of Jack Ritchie. As a fan of this author I have also created this website for the benefit of other readers of Ritchie who want to learn more about him, as well as to help people track down individual stories. Follow the links above to explore the contents of this website.
E-Mail: marks3789@gmail.com
---